The wonderful thing about Tiggers
Is Tiggers are wonderful things
Their tops are made out of rubber
Their bottoms are made out of springs
They're bouncy, trouncy, flouncy, pouncy
Fun, fun, fun, fun, FUN!
But the most wonderful thing about Tiggers
Is I'm the only one

The wonderful thing about Tiggers
Is tiggers are wonderful chaps
They love to leap in your laps
They're bouncy, trouncy, flouncy, pouncy
Fun, fun, fun, fun, FUN!
But the most wonderful thing about Tiggers
Is I'm the only one

Tiggers are wonderful fellahs
Tiggers are awfully sweet
And that's why I repeat...

The wonderful thing about Tiggers
Is Tiggers are wonderful things
Their tops are made out of rubber
Their bottoms are made out of springs
They're bouncy, trouncy, flouncy, pouncy
Fun, fun, fun, fun, FUN!
But the most wonderful thing about Tiggers
Is I'm the only one
(Grrrrrrr...) ooOOooOOOoooOOOoo!!!



From: Winnie the Pooh and Tigger Too
Written by Richard M. Sherman and Robert B. Sherman
Performed by Paul Winchell (Tigger)







Tigger's Dictionary



The "Pooh" Word &nbsp&nbsp&nbsp&nbsp&nbsp&nbsp Actual Meaning


Fir-Cones &nbsp&nbsp ---------- &nbsp&nbsp&nbsp Pine Cones
Haycorns &nbsp---------- &nbsp&nbsp&nbsp Acorns
Heffalumps &nbsp---------- &nbsp&nbsp&nbsp Elephants
Hunny &nbsp ---------- &nbsp&nbsp&nbsp Honey
Jagular &nbsp ---------- &nbsp&nbsp&nbsp Jaguar
Woozles&nbsp ---------- &nbsp&nbsp&nbsp Weasels






{Tigger Links} {Tigger's Photo Album}






Go Back to Terri's Disney Page
Go Back To Terri's World








What shall we do about poor little
Tigger?
If he never eats nothing he'll never
get bigger.
He doesn't like honey and haycorns
and thistles
Because of the taste and because of
the bristles.
And all the good things which an
animal likes
Have the wrong sort of swallow or
too many spikes.
But whatever his weight in pounds, shillings, and ounces
He always seems bigger because of his bounces.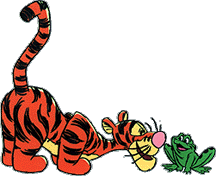 Disclaimer: Tigger is a fictional characters based on the original works of A. A. Milne and Ernest H. Shepard. The characters and their names are registered trademarks of the Disney Corporation and/or Dutton Children's Books. The images may or may not be fully copyrighted illustrations of the Disney Corporation and/or Dutton Children's Books. The Disney Corporation and Dutton Children's Books in no way endorse this Web site, nor are they affiliated with this page in any way. Those trademarks and all other trademarks are the sole property of their respective owners. The author of this page has not used this page, nor does she intend to use this page (Or the information contained herein), for commercial purposes. Rather, the information is supplied as a servic to Pooh and Tigger fans the world over for their enjoyment and to help them embrace the spirit of friendship and sharing that Pooh brings out in each of us.